Decorate your home like a professional !!!!
Owning a Home in the city of dreams Mumbai is nothing less then prestige, However like most major cities Homes in a concrete jungle like Mumbai often comes with space restrictions and that becomes a barrier in decorating our home the way we desire. 
You want to do soo much but then you risk your home looking cramped, you want your home to be stylish but risk it becoming too cluttered. But Not to worry you can still decorate your home the way you want it can still look very much stylish and vibrant with the help of these tricks that we will be mentioning below. 
Be Smart
Image Source:livspace.com 
When space is limited you don't want to decorate your home with bulky furniture, hence go for sleeker furniture designs for example instead of big dining tables you could go for smaller ones or a much better round dining table or simply opt for a breakfast bar that will serve as a dining table as well we had recently done for one of our client at shapoorji pallonji sewri you must go and watch sample flat. 
Also when buying furniture opt for those that offer maximum storage like a sofa and bed that comes with a storage compartment. Also, furniture that is foldable helps in saving space for example instead of buying a writing desk or workstation option for wall mounting foldable table. 
When it comes to furniture less is More so plan ahead and make a list of items you want in your home then imagine each and every one of them at your home the ones that don't serve purpose eliminate from the list this way you won't end up cluttering your space remember good home decor does not mean filling up your room with furniture.
Wall Mounting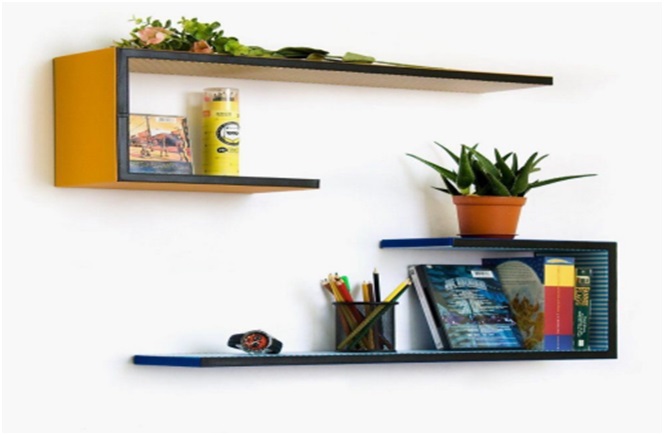 Image Source: pinterest.com 
As much as possible keep the floor clear by opting for wall mounting electrical appliances like lamps, Wall units for displaying decor items, or used for storage, TV can also be wall-mounted,  this way your floor will be will free making your room look more spacious and clutter-free.
Mirrors 
Image Source:awesomedecors.us 
Full-length mirrors can be used to give the illusion of a bigger space, Mirrors also help in making your home look brighter by reflecting natural light. Also, mirrors make for amazing accessory when it comes to home decor.
Color & Lighting 
Image Source:decorpass.com 
Opt for Neutral colors when painting your walls as Neutral Colours make your Home look  Roomy, Spacious, Bright, and Stylish and cost effective. Even the color of your curtains should be selected accordingly. Choose a color theme not more than three colors and stick to it.  Lighting plays a very important role a well-lit home gives the illusion of space hence plan your lighting carefully. You must see the show flat for shapoorji pallonji sewri price 
These are some of the techniques that can help you decorate your space if you are on a tight budget then to don't worry you can still decorate your home as a lot of options are available in the market including second-hand furniture and antique furniture markets that will allow you to make a purchase at discounted and cheaper price. So here wishing you all the luck decorating your home !!!
Contact Number : +91 7860697860